Pettifers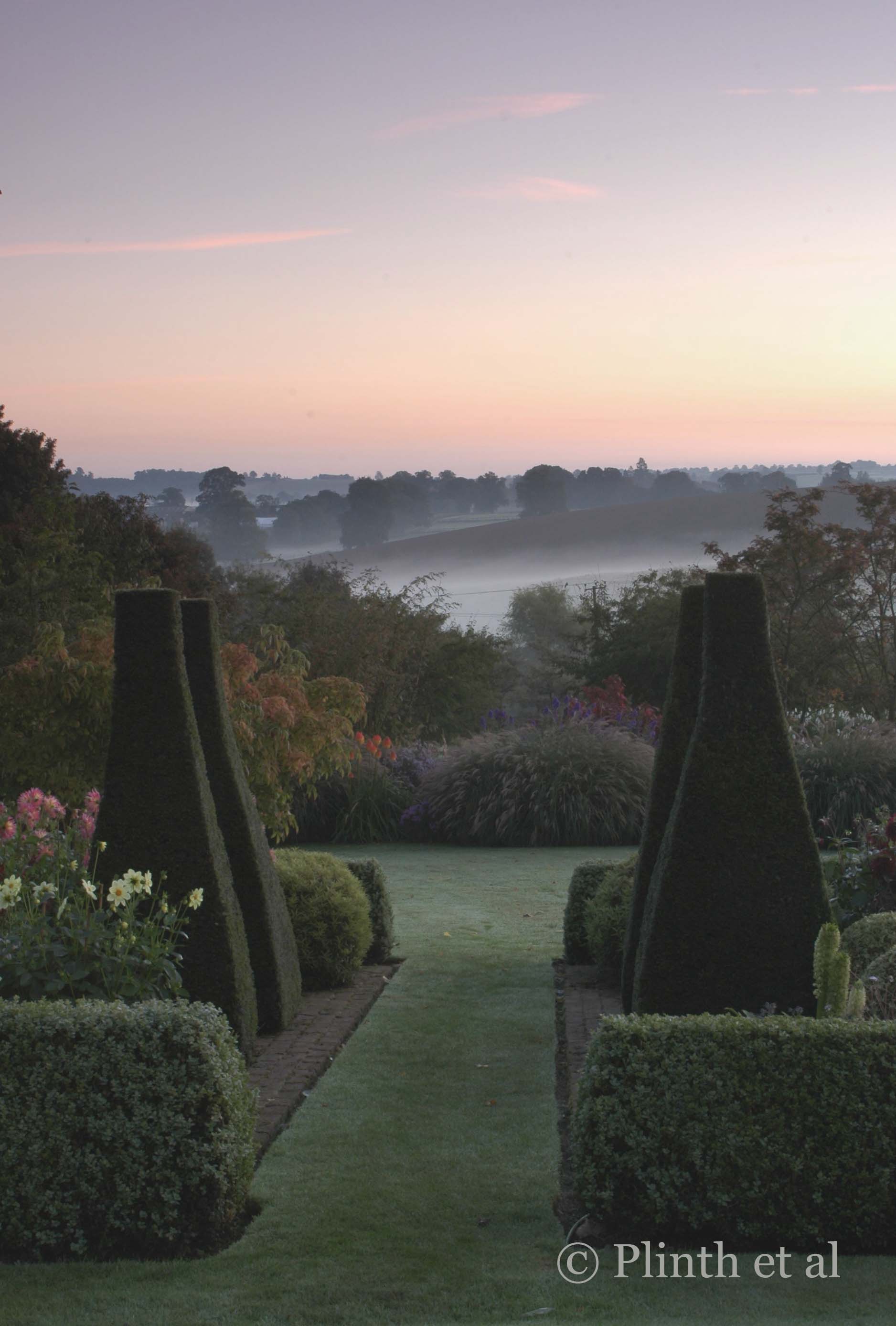 Pettifers remains close to my heart for it sparked a wonderful friendship with its owner, The Honourable Mrs. Gina Price. It had been opened for charity in the Yellow Book Scheme several years ago, but unfortunately was no longer listed. I summoned courage to write a thoughtful letter to Gina, asking permission to see the garden. Three weeks elapsed before she sent a short, but friendly email inviting me to come sometime in June. I felt slightly unsure of myself as I approached the handsome stone façade of the townhouse because the British can be notoriously guarded upon first acquaintance. All my reservations gradually disappeared when I realized how enthusiastic and similar we were about gardens and plants. The 1.5 acre garden exceeded my expectations, despite being worried about an anticlimactic experience since garden photography can elevate the most unassuming garden into a good one. The weather was not cooperative as we darted in and out of the garden between rain and fleeting sunshine. Following my first visit, we continued to correspond via e-mail and phone, and I paid repeat visits. It was fascinating to hear about Mrs. Price's Welsh upbringing and how she inherited Bodysgallen Hall unfurnished from her uncle at the age of 21. Her first gardening experience was there where she battled brambles and aggressive weeds unassisted in the garden. It was not until in her early forties did she began to develop an active interest in the garden after having visited gardens and being instructed by knowledgeable friends, such as Graham Gough of Marchants Hardy Plants and Sue Dickinson, Head Gardener of the Rothschilds' estate walled kitchen garden.
At first Pettifers seems to pay an understated homage to various inspirations. The patterned pavings, which carry the visitor out to the wide platform of lawn, and the intricately crafted, colourful doors were respectively adapted from those of York Gate Garden, Leeds, Yorkshire and a Bavarian palace in Würzburg. A few roses and geraniums, once dominant players of the garden, have been retained as a polite nod to English sensibility. The ever increasing presence of grasses marked a subtle reverence for the continental style popularized by Piet Oudolf and his contemporaries. In its long rectangular lines, rather modest hedges and walls and open lawns, Pettifers, like other English gardens, blends seamlessly with the landscape. The spacious windows of the house frame the garden, offering more vistas and perspectives from the interior.
Through the aforementioned influences and lesser eyes, one may be tempted to dismiss Pettifers as another pretty, derivative English garden. To do so would be an injustice for most English gardens seem to creak in that geriatric, if not middle-aged, complacency. Change may be an anathema elsewhere, but not so at Pettifers where Gina's relentless energy and critical eye fine-tunes and edits the garden, sometimes dramatically with unsentimental removal of overgrown shrubs or underperforming perennials. Each month brings successive choreographed vignettes from the vivid exuberance of spring bulbs to the pyrotechnics of the Autumn Border—no easy feat given its lack of reliance on tender perennials and annuals, apart from dahlias in the parterre and containerized specimens, which dictate layer plantings like those at Great Dixter and Powis Castle.
Travels to India freed Gina from the corset of genteel English color schemes, and rich royal colors are mixed with panache in the borders. There is no hesitation in letting the scarlet autumn foliage of Euonymus planipes and orange torches of Kniphofia rooperi ignite against the plumes of Calamagrostis x acutiflora and the moody violent purples of Acontium carmichaelii 'Arendsii'. Above Sorbus 'Joseph Rock' dangles its pearly clusters of gold fruits. Steely blues of ergyniums play off the ochre and oranges of achilleas, Nasella tenuissima, kniphofias, and daylilies.
Clever dabs of monochromatic groupings, such as Colutea x media and daylilies rest the eye momentarily from the energized plantings. Gina's tireless search for "good doers" have unearthed overlooked good garden plants such as Succisia pratensis, a winsome northern European native for its wiry tangle of purple or pink scabiosa flowers and clean dark green leaves, and Helenium 'Sahin's Early Flowerer'.
There is no room for horticultural clichés –I once asked Gina about whether she had ever grown Stipa gigantea, and she admits with characteristic candor: "It's a wonderful plant, but terribly overexposed in gardens. I felt that it was time to devote more attention on other deserving plants." Gina also shies away from the common practice of mixing several plants in one container, preferring to showcase one plant singularly. Container plantings used to signal elevation or atmospheric shifts in the garden, such as the two green-glazed pots of Hakonechloa macra 'Aureola' that flank the top terrace.
Shrubs are highly esteemed—Rosa californica herald the steps into the parterre, Gustav Klimt Border, and Autumn Border, and Irish yews, Phillyrea angustifolia, and Sarcococca are sculptured into geometric shapes for structural points, and two rare Euonymous cornutus var. quinquecornutus are espaliered against the house. Trees, such as Betula ermanii and Magnolia 'Spectrum', bridge the transition between the garden and the countryside. Woody plants give the garden its essential structure especially when the borders are stripped clean for the following year.
An instructive tool for providing perspective on plantings has been the camera. Gina passionately taken up garden photography, confessing that she sometimes sleeps in the guest bedroom in order to wake up at five am without disturbing her husband, when the morning light is at its most magical. She has invited Clive Nichols, a professional garden photographer who resides two miles away, to document the garden's seasonal changes. Because photography has attuned her to the quality of light on the garden's atmosphere, she tends to prefer that visitors, especially groups, come during mornings or evenings when feasible.
Gina is fortunate to have the talented skills of her full-time gardener Polly who is not adverse to changing the garden when appropriate and needed.  The two women often visit nurseries and gardens to learn more about new plants and gleam ideas translatable to Pettifers. It is this sort of owner-head gardener collaboration that prevents the garden from becoming stagnant. And whenever visitors see the garden on pre-arranged group tours, they sometimes offer constructive criticism to improve problematic space or plantings. Gina remembers one Dutch visitor who pointed out how the leaf types were the same in one border, not offering enough contrast for effect.
In tandem with Gina's horticultural education at Pettifers is the creation of another garden in her second home in Corfu, Greece where the landscape commands more respect and attention than the pastoral countryside of Oxfordshire-Northamptonshire. Wizened, centuries-old olive trees frame grand views of the Mediterranean Sea and Albanian Mountains. Gardening in Corfu has forced Gina to rethink for the hard, gravely soil requires pickaxes to work up, and low summer rainfall necessities reliance on drought tolerant plants such as lavender and rosemary (where irrigation is close and on hand, blue plumbago, passionflowers, and red pelargoniums are cultivated). Here Gina has fashioned a garden more sympathetic, if not subservient to the landscape.
Despite unequivocal and generally positive reception from visitors, Gina is not content to relax at Pettifers. In the intervening years, trees and shrubs either have been removed or added (last year the large European beech behind the house was cut down, opening new opportunities and making the house more equilibrium with the garden, underperforming perennials replaced with better alternatives, and spatial areas redefined. Gina's continual editing might seem unrelentingly fussy, but it refreshes the garden, propelling forward into something contemporary without sacrificing the traditional tenets of British gardening.
www.pettifers.com
http://pettifers.wordpress.com/
~Eric